Hypermet-PC - Compatibility tips
Introduction
Feature list
Compatibility tips
Downloads
Customer care
System requirements

Hardware requirements:

386 or better CPU,
mathematical co-processor,
2 MB RAM,
about 3 MB free hard disk space for Hypermet-PC,
and another 2 MB when the program is running,
standard VGA video card (640x480 resolution, 16 colors) or better,
mouse,
CD-ROM or 3,5" floppy drive for the installation.

Supported operating systems:

MS-DOS 6.x
MS Windows 3.x
Windows 95/98/98SE/Me system
Windows XP (with Windows-95 compatibility option enabled, see below)

NOTE
: Windows NT4, Windows 2000 are NOT supported. (Possible solutions: Dual-boot machine (e.g. Win - MS-DOS 6.22), bootable CD-ROM)
Converter utility for Canberra's CAM format

A free utility is offered to convert Canberra's CAM files (*.cnf) to their earlier file format, S100 (*.mca). This latter can be loaded into Hypermet-PC properly. The conversion preserves the calibration and most of the header data.
More
Troubleshooting for Windows Vista, Windows 7, 8, 10, Mac and Linux Users

Hypermet-PC can be executed on these modern operating systems using a DOS emulator called DOSBOX.
Download and install DOSBOX from http://www.dosbox.com/. Windows and Linux versions were successfully tested. Mac version also works, but the graphics seems to be very slow.
Install Hypermet-PC to a directory without special characters, accented letters and spaces. Good examples are C:\HYPC, C:\Programs\HYPC
Edit the configuration file of DOSBOX as follows: open Start Menu -> All Programs -> DOSBox-0.74->Options->DOSBox 0.74 options. This opens a Notepad with dosbox-0.74.conf file. Scroll down to the end of the file.
Add mount command to access each of your drives. In linux, full path of a directory shall be given such as /home/username/spectra. Modify the TEMP and Hypc exe paths to match your system setup.
  [autoexec]
  # Lines in this section will be run at startup.
  # You can put your MOUNT lines here.
  mount c: c:\
  mount d: d:\
  ...
  SET TEMP=c:\windows\TEMP
  c:\hypc\hypc512.exe
  exit

Save the file and close Notepad.
Start DOSBox from Start Menu. It should open Hypermet automatically
Tip: to get rid of the Status Window in the background, add the -noconsole option to the DOSBox shortcut's command line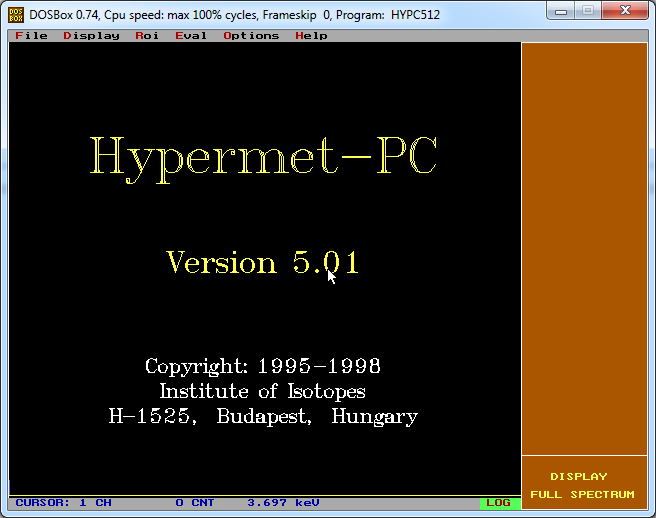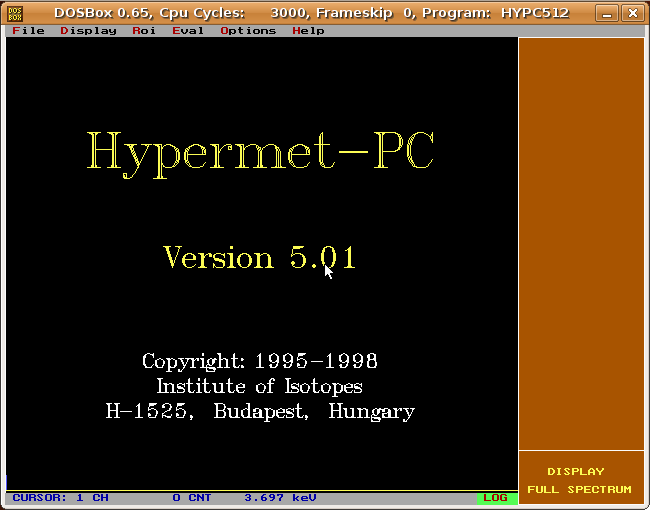 Troubleshooting for Windows XP Users

If you intend to use Hypermet-PC on a Windows XP system, we encourage you to apply the Windows-95 compatibility option. Please select HYPC.EXE or the corresponding PIF File, click on it with right mouse button, choose Properties. On the Property page, select the Compatibility tab, and enable "

Run this program in compatibility mode for:

" option, as shown in the figure.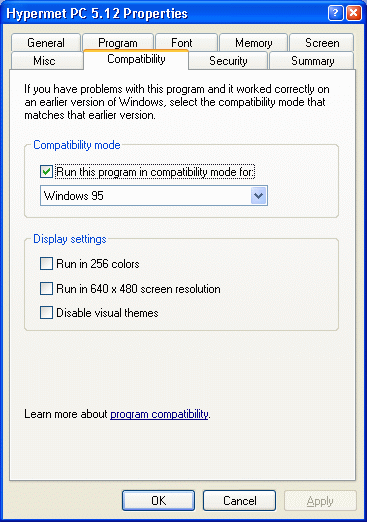 The following tip is based on Troubleshooting MS-DOS-Based Programs in Windows (Q314106) at Microsoft Knowledge Base website.One of the first thing to test when you are having problems with MS-DOS-based programs is the Windows Virtual DOS Machine (NTVDM) subsystem. Open START menu, choose option RUN and enter

command.com

or

cmd.exe

. If you don't see a MS-DOS windows coming up, you of course have a problem.
Check the
Config.nt
and
Autoexec.nt
files in the
SystemRoot%\System32
folder for nonstandard settings. Use a REM statement to remark out all entries except the following default entries:
Config.nt
dos=high, umb
device=%SystemRoot%\System32\Himem.sys
files=20
Autoexec.nt

lh %SystemRoot%\System32\Mscdexnt.exe
lh %SystemRoot%\System32\Redir
lh %SystemRoot%\System32\Dosx
lh %SystemRoot%\System32\Nw16 (only if CSNW is installed)
lh %SystemRoot%\System32\Vwipxspx (only if CSNW is installed)
The registry entries that are associated with the NTVDM subsystem are:
HKEY_LOCAL_MACHINE\System\CurrentControlSet\Control\Session Manager\Environment
This key stores the environment variables from the Config.sys and Autoexec.bat files for use in Windows.
HKEY_LOCAL_MACHINE\System\CurrentControlSet\Control\ VirtualDeviceDrivers
This key stores the device drivers that are used in an NTVDM session. Windows Setup creates these entries when a device driver is installed.
Please read the complete article for further details.